Courses
I offer a range of courses specialising in writing and illustrating picture books, from my beginners and developing courses at the Quentin Blake Centre for Illustration, to my Superpowers course for professionals who want to enhance their portfolio and sharpen their marketing skills to get more work…
An Introduction to Creating Picture Books

On this friendly, highly structured 10 week adult beginners course, you will learn the essentials of creating children's books for 0-6-year-olds, to appeal to the contemporary picture book market.  Claire teaches both writing and illustrating as the two disciplines are integral to picture books, but you may wish to specialise in either one.
During the course you will:
~ Gain an overview of the market & advice on getting published
~ Learn how to create stories with convincing characters
~ Experiment with a range of appropriate artistic mediums
~ Explore narrative themes, structures & writing styles
~ Learn how to storyboard your book with compelling layouts
~ Learn how to make a dummy book to present to publishers
~ Receive one to one & group feedback on your work
~ Obtain advice and guidance on marketing your work
Testimonials
"Claire is a fantastic tutor. She's not only talented but well versed in the industry and has the ability to explain things clearly while being very kind and generous to the students."
"Great tutor, very approachable and knowledgeable. I enjoyed the online experience possibly more than an offline class"
"The tutor spoke from a lot of experience so it was a really good insight into children's publishing. Even though it was over zoom, there was a really great community feel on the course. I also really liked that there was time for feedback sessions and that we learnt some cool new techniques."
"Claire is very encouraging and supportive. I was not at all confident when I realised the standard of the work and how many people already had art degrees etc, but I think we all have found it increasingly easy to share our work and receive comments from Claire and each other.'
I teach this course at the Quentin Blake Centre for Illustration, please check their website for course dates and bookings.
Developing Picture Books
For students who have completed 'An Introduction to Creating Picture Books' or similar, this practical course will help you develop your book idea and illustration portfolio in a friendly supportive group environment.

During the classes you will:
~ Find your unique style by experimenting with painting techniques in a range of mediums.
~ Build your children's book portfolio week-by-week, creating relevant artwork to spark interest from the commercial market.
~ Make your story sing! Sharpen your writing and editing skills.
~ Receive support and advice on developing a storyboard.
~ Obtain guidance on marketing your work.
~ Create an action plan for submitting to publishers and agents.
Testimonials
"Claire is very knowledgeable and very generous with us as students by sharing her experience and knowledge. Each session I learnt a lot and went away with more things to think about for my own story. Claire spends time discussing students' questions, which is very helpful."
"I like the fact that Claire includes things like using shadows, colour theory etc. As I didn't go to art college, I find it useful having these kind of things as part of the course."
"Claire's great teaching, generous sharing of knowledge – this was truly a fantastic experience!"
I teach this course at the Quentin Blake Centre for Illustration, please check their website for course dates and bookings.
Summer School: Illustrate a Children's Book
Spend a playfully productive week this summer creating your answer to an inspiring children's book brief to impress publishers and agents. On this online daytime course, you will be guided through the process of illustrating a text aimed at pre-schoolers and 3-6-year-olds in preparation for professional literary projects.
During the course you will:
·      Explore target age-appropriate, commercially viable ideas
·      Carry out character research and develop characters in colour
·      Discover the unique relationship between text and image in picture books
·      Learn how to create clear, consistent sequential imagery
·      Draft compelling layouts and storytelling compositions
·      Hear how to control the visual pace of the narrative
·      Gain advice on how to prepare your work for submission to publishers and agents
Limited places mean this course allows time for group discussion, with peer and individual feedback, and plenty of expert guidance, as well as that all-important accountability!
By the end of the week, you will have a full black and white storyboard which doubles as a dummy book, colour character studies in a medium of your choice, a greater understanding of the UK and global children's book market and how to approach publishers and agents – plus you'll have a new group of like-minded creatives for optional feedback and support in the future!
Who is this course for?
·      Those who are new to children's book illustration and can already draw
·      Illustrators or graphic designers who want to delve into the field of children's book illustration
·      Professionals already working in the industry who would like to develop a new project for their portfolio.
I teach this course online in August. Please email me from the contact page if you are interested in signing up.
Discover your illustration superpowers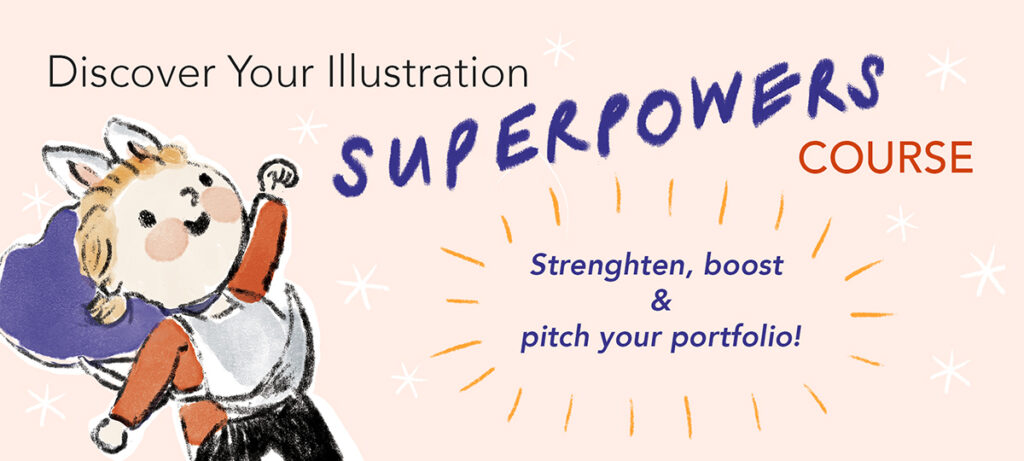 Have rejections from agents and publishers left you lacking motivation & direction in your children's illustration career?
Join this small, exclusive, four day course to gain greater career clarity and confidence. During the course you will:
~ Gain professional feedback on your children's illustration portfolio.
~ Manifest your goals and establish your career direction.
~ Learn how you can give your portfolio a market boosting make over.
~ Write a pitching statement and learn how to present your work with confidence.
~ Get tips on how to brand and promote your work creatively.
~ Find out how to grow your fan base.
~ Connect with a friendly, supportive group of fellow children's illustrators.
~ Feel inspired and motivated, knowing exactly what areas you need to work in to appeal to publishers and agents.
The last class will take place two months after the third class, so you can gain vital feedback on everything you have produced towards your new set of goals.
This course is for those who have been educated to an intermediate level in children's book illustration and have already created a portfolio of work.
Testimonials
"Thank you Claire – it was a fabulous experience. I'm looking forward to developing my portfolio and all that we learned. I am also really thankful for the wonderful feedback from the fellow illustrator/artists and yourself. A really wonderful group and experience."
"Thank you so much Claire! I feel really invigorated and motivated now! I'm recommending it to everyone I know!"
"Thanks so much for this Claire, was great to meet and get feedback on my work from such a talented bunch of illustrators. Would highly recommend for anyone seeking inspiration and taking your career goals to the next level!"
Dates to be confirmed. Pop your email address below and I'll let you know when bookings are open!
(By doing so you agree to opt in to email marketing from me – you can unsubscribe at any time)
Save
Save
Save
Save
Save
Save
Save
Save
Save
Save