Author Illustrator Visits
I'm passionate about inspiring literacy through drawing and story-making!
EYSF & KS1
I run fun, interactive live and online workshops which include:
 – Showing children how I make my books
 – Performing draw-along's of characters expressing different emotions
 – Involving the whole class in directing a NEW storyline while I draw a giant storyboard they can pen some words to after my visit!
 –  (Even the most reluctant of readers have been keen to write after this activity!)
I have an EXTRA surprise!
Prior to my visit, I can email teachers a FREE online visual board they can share with their class. It's packed full of resources and activities about the book. I've found it generates excitement about my visit and makes the day extra special! The package includes:
 – Colourful pictures and engaging questions about the story
 – Mini video insights into how I make my books
 – Printable drawing and writing activity sheets
 – Printable colouring-in sheet
I can centre assemblies or classroom workshops around these books: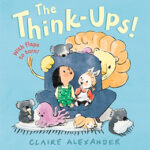 The Think-Ups!  – Let your imagination run wild! With half-cut pages that make for funny animal surprises at every turn, this book is a fresh celebration of imaginary play.
A Little Bit Different – Great for emotional social learning, this book is a light, fun story depicting the journey from ignorance to acceptance and celebration.
A Little Bit of Courage – A subtle yet powerful message on overcoming anxiety and finding the courage to live life to its fullest, this book will resonate with children.
The Snowbear, written by Sean Taylor – With themes of friendship, loyalty, and bravery this book is a great choice for story-time discussion, especially in the chilly winter months!
FOR KS2 +
I'm always excited to workshop with years 3+. Some topics I can cover with them:
 – How I make my books and got published
 – Explore expressive character drawing
 – Understand different story structures, pacing and economy
 – Understand the principles of storyboarding
 – Show how to make the biggest impact with simple layout drawings
 – Exploring literary devices to make a story sing!
 – The different roles of words and pictures in a picture book or comic.

School Testimonials
I just wanted to say a huge thank you for the work you did with Prep 5 on their picture books. As part of Book Week this year, they proudly read their completed picture books to the Nursery. They are of fantastic quality, thanks to your inspiration!
Hannah Ross, Head of English, Parkgate House School
Claire provided wonderful things for our children to become involved with.  After reading her stories to each year group of enthralled pupils, she then illustrated how she goes about making her characters and deciding on her backgrounds, so all aspects of producing the book were explained.  More than that, she worked with every year group to produce their own story, leaving us as fabulous mementos of her visit.
St Matthews School Primary School
Our thanks to Claire for making our Book Week this year an extra special treat for our pupils.  We cannot say enough in praise of her visit.  The children love reading their own unique copies of their stories!

University / College Visits
I can talk and run workshops on any aspect of creating picture books including appealing to publishers and self-marketing. I run my own picture book writing and illustration workshops and run courses with The Quentin Blake Centre for Illustration in London.

Adult Education Testimonials
I give Claire's course 5 big fat stars!!! She's a brilliant teacher who really knows her stuff and she gives great, first-hand insight into the publishing world.
Claire Powell
I was so impressed with your students – their work put some college courses to shame.  I have so many illustrators who apply to join my agency who would benefit from your tuition.
Lorraine Owen, The Organisation Illustration Agency
Claire's courses are brilliant – informative, motivating and encouraging. Her testament is that students of hers have gone on to be published.
Glenda Frieda

Fees and Bookings
If you are interesting in a school visit, please email me at claire@clairealexander.co.uk
Save
Save
Save
Save
Save
Save
Save