Picture Book Mentoring Group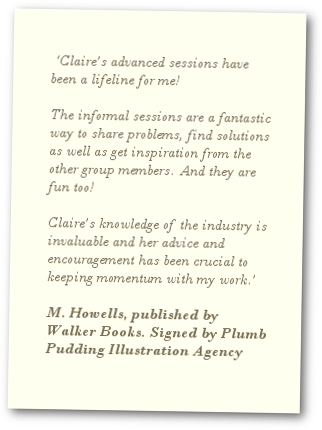 Monthly online mentoring sessions to motivate, guide and support you in launching your career as a picture book author and/or Illustrator.
During these sessions I will help you identify your unique picture book superpowers, guide you in strengthening your written and illustrative skills, and advise you on crafting your best portfolio to flaunt your individual style to industry professionals.
In this safe, creative space, numbers are limited to allow time for vital feedback on your work and to air questions or challenges you may have
You will:
Receive 20 minutes of one-to-one feedback on your work of your choice during each session
Share your work in small group forum for constructive group support and motivation
Upload your existing portfolio to identify any gaps in content and explore how to best display pieces to tell your story and wow publishers
Hone your individual style and strengthen your illustrations in terms of characters, colour and composition.
Hear appraisals of your texts and storyboards, including advice on which synopsis to develop further
Receive homework to enhance your picture book practice, including agent and publisher research and self-marketing
Establish a set of personal goals with achievable time frames, which I will be holding you accountable for!
*This group is for students who have completed an intermediate level course on writing and illustrating picture books, or for professionals already working in the field who want support rejuvenating their written and illustrative work
2022 Sessions:
Tuesday evenings: Beginning 14th June from 6-9pm
Saturday Mornings: Beginning 18th June from 10am – 1pm
Please subscribe to my newsletter for more information and bookings HERE
Save
Save
Save